ENGAGED is a short romantic comedy that follows Darren (Daniel K. Isaac), who keeps trying – and failing – to propose to his boyfriend Elliot (Ryan Jamaal Swain). When their relationship is put into an uncomfortable spotlight during a friend's outrageous engagement party, Darren realizes he actually might be self–sabotaging himself due to unresolved insecurities about his sexuality.
Best Short Film – Reel Q: Pittsburgh LGBTQ+ Film Festival
Best Comedy Short – New Hampshire Film Festival
Audience Award for Best Comedy – CMG Short Film Festival
Audience Award – Cinema Diverse Palm Springs
*Indicates an Academy Award-Qualifying Festival for Live Action Short Film
Seattle International Film Festival*
Palm Springs International Shortfest*
HollyShorts Film Festival*
Los Angeles Asian Pacific Film Festival*
Martha's Vineyard African-American Film Festival*
Frameline: San Francisco LGBTQ+ Film Festival
Outfest Fusion LGBT People of Color Film Festival
NewFest: New York LGBTQ Film Festival
Queer Screen's Mardi Gras Film Festival
San Diego International Film Festival
New Hampshire Film Festival
Milwaukee Film Festival
Santa Fe Film Festival
CAAMFest
Wicked Queer: Boston LGBT Film Festival, March 2019
qFLIX Philadelphia, March 2019
Reel Out Charlotte, May 2019
QFest St. Louis, May 2019
FilmOUT San Diego, May 2019
Fairy Tales Film Festival, June 2019
Kashish: Mumbai International Queer Film Festival, June 2019
Out Here Now: Kansas City LGBT Film Festival, June 2019
Color of Conversation Film Festival, July 2019
North Carolina Gay + Lesbian Film Festival, August 2019
Stamped Pensacola LGBTQ Film Festival, August 2019
Vancouver Queer Film Festival, August 2019
aGLIFF, August 2019
Sidewalk Film Festival, August 2019
Long Beach QFilm Festival, Sept 2019
Hong Kong Lesbian + Gay Film Festival, Sept 2019
Fargo Moorhead LGBT Film Festival, Sept 2019
Fresno Reel Pride, Sept 2019
Reeling: Chicago LGBTQ+ Film Festival, Sept 2019
Cinema Diverse Palm Springs, Sept 2019
ATL Out On Film, Sept 2019
Durban Gay + Lesbian Film Festival, Sept 2019
Outflix Film Festival, Oct 2019
PROUD! Denmark, Oct 2019
Reel Q: Pittsburgh LGBTQ+ Film Festival, Oct 2019
Melanin Pride Film Festival, Oct 2019
Way OUT West Film Festival, Oct 2019
Seattle Queer Film Festival, Oct 2019
Richmond Rainbow Pride Film & Cultural Event, Oct 2019
Q Fest: San Antonio, Oct 2019
Tampa Bay Gay + Lesbian Film Festival, Oct 2019
CMG Short Film Festival, Oct 2019
QUEER-Streifen Regensburg, Oct 2019
Boston Asian American Film Festival, Oct 2019
Indianapolis LGBT Film Festival, Nov 2019
QFilm Weekender UK, Nov 2019
Philly Asian American Film Festival, Nov 2019
VinoKino Film Festival, Nov 2019
Seattle Asian American Film Festival, Feb 2020
Bull City International Film Festival, Mar 2020

DANIEL K. ISAAC recently completed production on Season 4 of Showtime's hit series "Billions", reprising his fan favorite role as trader "Ben Kim". He can also be seen on the breakout Comedy Central series "The Other Two".
Other film and television credits include the feature film, The Drummer, opposite Danny Glover, The Dark End Of The Street, Money Monster (dir. Jodie Foster), "The Jim Gaffigan Show" (TV LAND), "Person of Interest" (CBS) and Too Big to Fail (HBO). Daniel co-wrote and stars in the short film/pilot presentation, "According To My Mother." The project was selected for IFP Film Week and the inaugural Sundance New Voices Lab and was an Official Selection at ITVFest, Newfest, Outfest & Outfest Fusion, CAAMfest, SeriesFest (where it was awarded Best Actress), and New York Television Festival (Best Drama and Best Actor). 
Theatre credits include Off Broadway: The Chinese Lady (Ma-Yi/ Theatre Row), The Gentleman Caller (Abingdon), Sagittarius Pon- derosa (NAATCO), Underland (59E59), Anna Nicole the Opera (BAM). Regional: The Chinese Lady (Barrington Stage), The Ballad of Little Jo (Two River), Miss Electricity (La Jolla Playhouse). As a playwright, Daniel is a member of En- semble Studio Theatre's Youngblood, Page 73's Interstate 73, and a Lambda Literary Playwriting Fellow. Training: UCSD, BADA. DanielKIsaac.com
RYAN JAMAAL SWAIN (Elliot) discovered his passion for performing at an early age and has continued to shine with his triple threat abilities as an actor, dancer and singer. Swain's breakout role as 'Damon' on Ryan Murphy's "Pose," has gained him much praise and acclaim for his portrayal of an ambitious aspiring dancer who after being kicked out of his home for being gay becomes a part of self-selected family that provides him with the love and support he'd never received before. The highly renowned and Golden Globe nominated FX series is now entering its second season. In his break out year on television, Swain was included on the prestigious Forbes 30 Under 30 list, was named by PAPER magazine as 100 People Taking Over 2019 and was featured in publications such as Nylon, GQ, NY Times, Interview Magazine and WWD, to name a few. Ryan also recently made his Broadway debut in "Choir Boy," directed by Trip Cullman.
In 2014, Swain wrote and starred in "A Negro Writer," a one-man show about Langston Hughes and his life. Swain recently finished a World Premiere Off-Broadway production of the critically acclaimed "Kill Move Paradise" (National Black Theatre, New York) and "13 Alabama Ghosts and Jeffrey" (American Theatre of Actors, New York). Among his favorite credits are his roles in "Six Degrees of Separation" ('Paul,' Keegan Theatre, Washington D.C), "295N" ('Jasen,' Signature Theatre, Washington, D.C., World Premiere), "Thoughts of a Colored Man" ('Wisdom,' GALA Hispanic Theatre, Washington, D.C., World Premiere), and "Spring Awakening" ('Moritz,' City Equity Theater, Birmingham, AL). 

Swain grew up in Birmingham, Alabama and honed his craft in local dance and theater companies such as Alabama Dance Academy, Alabama Ballet, Red Mountain Theatre Company, Birmingham Children's Theatre and Virginia Samford Theatre. He also trained at Howard University and British American Academy in Oxford U.K.

As a young activist Swain lends his name as a Stonewall Ambassador and to the It Gets Better Project both in the US and abroad. Swain is currently working on a young adult book based on a queer Southern teenager who is finding his way through life's highs and lows. As one to watch in the fashion space, Swain has caught the attention designers such as Christian Dior, Thom Browne, Salvatore Ferragamo, Coach, and Helmut Lang, and his style stands out among his peers at red carpets and events throughout NYC.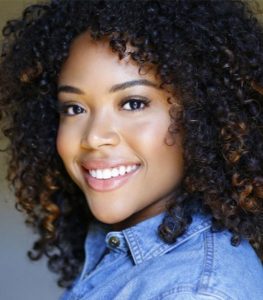 MARICELIS GALANES
"Michelle the Game Show Host"
Ron
Camilla
Jerry
Waitress
Proposal Woman 1
Proposal Man 1
Proposal Woman 2
Proposal Man 2
Hector
Lucia
Cab Driver
Tucker Lewis
Denise Rendor
Jared Baglietto
Morgan McCourt
Jessica DiSalvo
Mark DiStefano
Hannah Kloepfer
Dan Gonon
Gabriel Awan
Noreen Quadir
Francis James
Romantic Restaurant Patrons
Kelly Chen
Valeria Flores
Christine McMahon
Isaac Nashed
Kielee Neal
Jocelyn Reyes
Tatiana Steward
Roberta Turner
Blake Welti
Kenya Williams
Engagement Party Guests
Roberta Accioli
Rodney Colon
Kristin Haran
Tiffany Mazzacone
Fatima McGruff
Michael Murphy
Reyo Regal
Yae Stratton
Melanie Terranova
David Valentino
Bar Patrons
Candice Clarke
India Joseph
Erin Michelle Sullivan
Sherrod Williamson
Bartender
John Oliva
Producers





Director of Photography
Production Designer
Costume Designer

Assistant Director
Composer
Editor

First Assistant Camera
Second AC / DIT
Gaffer
Key Grip
Swing
Swing

Art Director
Set Decorator
Hair and Makeup Artist
Production Sound

Colorist
Re-recording Engineer
and Sound Mixer
Visual Effects Producer
Production Assistants

Set Photographer
Chester Algernal Gordon
Marzy Hart
Daniel Ornitz
Carrie Radigan
David Scala

Coyote
Daniel Ornitz
Chester Algernal Gordon

Carlin McCarthy
Ariel Marx
David Scala

Emmet Padgett
Julia Crytser
Julian Tran
G. Chandler Cearly
Trevor Hoover
Joel Crane

Andrew McCourt
Sarinha Rodrigues
Nicole Palladini
Ana M. Fernandez

Nicole Benoit

Arjun G. Sheth
Azhar Kotadia
Hannah Lane
Olga Ryrakhovsky
Bruna Lacerda
David Scala is a second-generation Filipino-American filmmaker whose five short films have won top awards and screened at over 150 film festivals, including the Seattle International Film Festival, Palm Springs ShortFest, Outfest, Frameline, Los Angeles Asian Pacific FF, CAAMFest, and more. His feature screenplays have been finalists for the Sundance Screenwriting Lab, Hamptons Film Screenwriters Lab, and NYU/Alfred P. Sloan Feature Film Award.
His most recent short ENGAGED (2019) starring Daniel K. Isaac (BILLIONS) and Ryan Jamaal Swain (POSE) screened at over 65 film festivals, winning Best Short Film at ReelQ Pittsburgh, Best Comedy Short at the New Hampshire Film Festival, as well as numerous audience awards. It was distributed internationally in June 2020.
In 2017, his full-length play "Among the Furies" won Best Play, Best Actress, and Best Scenic Design at the New York Theatre Festival, where he was also nominated as Best Director. The next year, the show returned for a sold-out, critically acclaimed run at the 2018 New York International Fringe Festival. Mr. Scala is currently developing his feature directorial debut.
Contact: ds@davidscala.com // www.davidscala.com
This error message is only visible to WordPress admins
© 2022 Spectral Light Industries